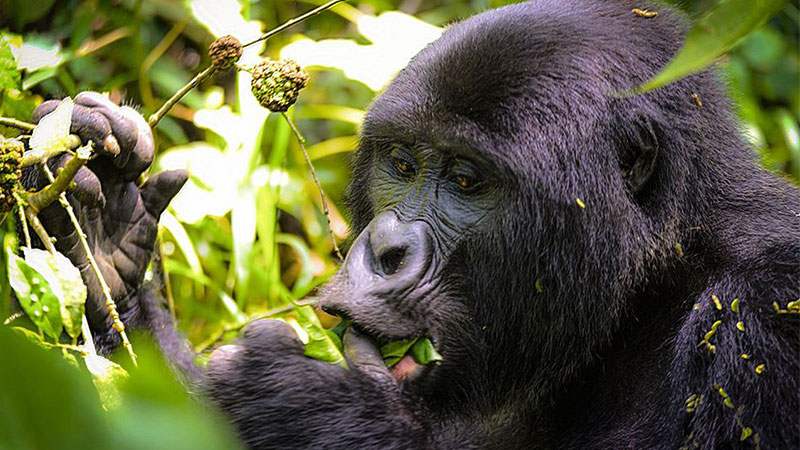 2 Days Gorilla Trek Uganda From Kigali
Book a 2 Days Uganda gorilla trek to Bwindi impenetrable forest national park starting from Kigali. You arrive at Kigali international airport, meet our driver guide and transfer to Bwindi forest via Cyanika border in Kisoro district. The tour starts and ends in Kigali Rwanda
Summary
Day 1: Arrival – transfer to Bwindi Forest
Day 2: Gorilla trekking & Departure
Day 1: Arrival – transfer to Bwindi Forest
Arrive at Kigali international airport, meet our driver guide and drive to Bwindi forest national park. Enjoy this 4 hours drive with spectacular views of the Virunga volcanoes, Rwanda rolling hills, and the beautiful kisoro green villages. On reaching Kisoro town, connect to Rushaga sector in the southern part of Bwindi Forest National Park. You may have a cultural visit in the evening if time and weather allows. Dinner and overnight at Gorilla Safari Lodge/ Gorilla Valley Lodge.
Day 2: Gorilla trekking & Departure
Have an early morning breakfast and with your packed lunch transfer to Bwindi headquarters in Rushaga for a pre gorilla trekking briefing. Here you will be grouped with other 7 travelers and allocated a gorilla family. At 8:00am, hike into the jungle to meet the gorillas. This hike may be short or long depending on the location of the gorillas. On meeting gorillas, you will spend an hour in their presence, enjoy their human-like characters, take photos, capture videos and enjoy this once in a lifetime experience. Hike back to the lodge, refresh and transfer back to Kigali for your return flight.
Includes
Excludes
• Gorilla permits
• Full-time English speaking driver guide
• Ground transport
• Accommodation and meals
• Bottled drinking water
• Government taxes
• Park entrance fee
• Flight Fares
• Alcoholic Drinks
• Driver tips
• Porters fee
• Other personal expenses
Day 1: Arrival – transfer to Bwindi Forest
Arrive at Kigali international airport, meet our driver guide and drive to Bwindi forest national park. Enjoy this 4 hours drive with spectacular views of the Virunga volcanoes, Rwanda rolling hills, and the beautiful kisoro green villages. On reaching Kisoro town, connect to Rushaga sector in the southern part of Bwindi Forest National Park. You may have a cultural visit in the evening if time and weather allows. Dinner and overnight at Gorilla Safari Lodge/ Gorilla Valley Lodge.

Day 2: Gorilla trekking & Departure
Have an early morning breakfast and with your packed lunch transfer to Bwindi headquarters in Rushaga for a pre gorilla trekking briefing. Here you will be grouped with other 7 travelers and allocated a gorilla family. At 8:00am, hike into the jungle to meet the gorillas. This hike may be short or long depending on the location of the gorillas. On meeting gorillas, you will spend an hour in their presence, enjoy their human-like characters, take photos, capture videos and enjoy this once in a lifetime experience. Hike back to the lodge, refresh and transfer back to Kigali for your return flight.

Includes
Excludes
• Gorilla permits
• Full-time English speaking driver guide
• Ground transport
• Accommodation and meals
• Bottled drinking water
• Government taxes
• Park entrance fee
• Flight Fares
• Alcoholic Drinks
• Driver tips
• Porters fee
• Other personal expenses